Giving You the Space to
Explore Your BLIS
Where you call home is important. Being close and connected to the city, the Sound and the mountains is what Pacific Northwest living is all about. You're at the center of it all when you choose BLIS - or as we like to call it, Bainbridge Living, Island Style. Here, you get all the perks of island living (a charming, small-town feel with stunning scenery around every corner) but you're just a quick ferry ride away from Seattle, or a short drive from the other scenic towns of the Olympic Peninsula.

BLIS offers spacious apartment living designed for active lifestyles, with access to multiple amenity spaces like an expansive rooftop deck and lounge, a fully-equipped fitness center with yoga studio, multiple lounge spaces (both indoors and out) and more. Located just off the charming and walkable Winslow Way, all of your favorite cafes and retail outlets are within walking or biking distance. Follow your BLIS and join us - we know you'll love it here!
Blissful
Apartment Living
At BLIS, we know how important it is to come home to a relaxing and welcoming atmosphere. Choose from beautifully designed apartment homes with designer touches, ranging in size from studios up to two-bedroom lofts — along with pretty much everything in between.

Elevated by an impressive collection of amenity spaces indoors and out, BLIS is a home designed for the lifestyle you love. Go ahead, judge us by our cover. Our residents love living here!
Take a Photo Tour
Don't just take our word for it: Explore your future home in our online photo gallery before you visit in-person.

From our warm and inviting lobby to the sun-soaked rooftop with views of Puget Sound, you'll find beauty around every corner when you live at BLIS.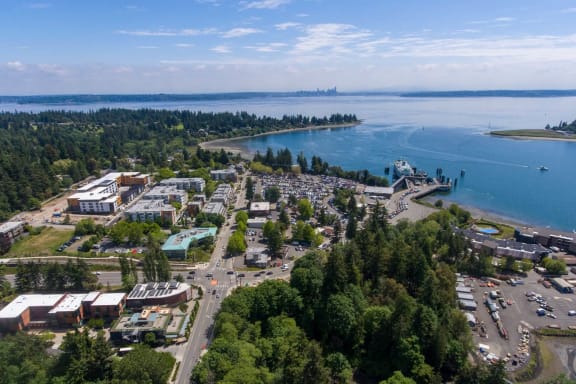 Life on Bainbridge Island is truly something special: In addition to being surrounded by the Pacific Northwest's stunning natural greenery and water views, the Seattle skyline is also just across the Sound (a mere 35-minute ferry ride away) and you'll find plenty to do right here on the island. Shopping, dining, entertainment, parks and playgrounds - it's all here.

You'll discover what we mean by "Bainbridge Living, Island Style" when you choose to call BLIS home.
Discover the Island Lifestyle
High-End Amenity Spaces
You'll find plenty of places to relax, entertain and make new friends in the many residents-only amenity spaces at BLIS.

Designed to allow you to enjoy the best of Bainbridge living all year round, there are just as many spots to soak up the summer sunshine as there are cozy indoor places to lounge, work or play.